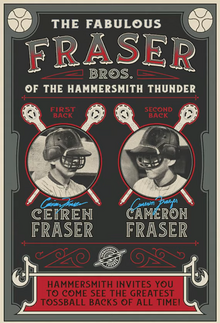 Tossball is a sport in The Outer Worlds.
Little is known about how tossball is actually played, however, there are several rules and indications on how the sport is played given throughout the game. The currently-known rules consist of the following:
The playfield has various zones named after the days of the week.
There are at least three ways to score a goal. The known ways are body-goals, foot-goals and hand-goals.
The visitor team can score goals by running the ball into the Saturday Goal, and the home team can score goals by running it into the Sunday Goal.
Running the ball into the goal is worth more points but it has more risks, such as getting cleaved, hacked, winged or bronzed.
You are allowed or even encouraged to kill members of the opposing team during a match.
You can be ejected for "overly sportsman-like conduct".
1st Back - 32nd Back
Forward
Goalie
Hacker
Tender
Winger
Professional tossball teams belong to corporations, being a way to promote their activities and project a brand image to the general public. These are some known teams:
28th Annual Tossball Series
Tossball divisional championships
Tossball interstellar championships
Auntie-Biotics Sports Arena
Eugene W. Smithers Sportatorium
Bird Creek Grove[2]
There are a number of "collectible" tossball cards that can be found as junk items throughout the Halcyon Colony.
The use of performance-enhancing stims is common in tossball, and a scandal was caused when both teams tested negative for performance-enhancing stims. It was considered a "tossball first" and caused the coaches and referees to debate whether the behavior could lead to an unfair advantage.[3]
The ball used in tossball is designed to increase blood splatters while maximizing protection of the ball from players.[4]
Tumbling the ball into the Wednesday zone is known as "getting humped."[5]
The employees of CHEM lab and OCI played tossball matches against each other at Executive Suites in Gorgon Canyon. They did so by drawing a large red X on the ground and placing down buckets as goals.
Tossball heavily resembles lacrosse as it was played in the early 20th century.
Several of the Tossball Athletes are named after Developers and Artists of The Outer Worlds.
Community content is available under
CC-BY-SA
unless otherwise noted.